Welcome to Supreme Invisible Grill!
At Supreme Invisible Grill, we are a leading provider of innovative and high-quality invisible grill solutions for both residential and commercial spaces. We take pride in our ability to seamlessly integrate security and aesthetics, offering you a safe and visually appealing environment without compromising on your views.
With years of experience in the industry, we have established ourselves as a trusted name, delivering exceptional service and craftsmanship. Our mission is to prioritize your safety and satisfaction, providing you with peace of mind while enhancing the beauty of your living or working space.
Our team of skilled professionals is dedicated to delivering excellence in every aspect of our service. From the initial consultation to the installation process, we work closely with you to understand your specific needs and preferences. We believe in a customer-centric approach, tailoring our solutions to meet your unique requirements.
When it comes to security, we understand that reliability is crucial. That is why we utilize the highest quality materials and cutting-edge technology in our invisible grill systems. Our products undergo rigorous testing to ensure durability, strength, and resistance to external elements. With Supreme Invisible Grill, you can trust that your space is protected against unauthorized access while enjoying unobstructed views.
We value transparency and integrity in all our interactions. Our pricing is fair and competitive, and we provide clear communication throughout the entire process. We believe in building long-term relationships with our customers, which is why we focus on delivering exceptional customer service and ongoing support even after the installation is complete.
At Supreme Invisible Grill, we also take our environmental responsibility seriously. We prioritize sustainability by utilizing eco-friendly materials and promoting green practices. Our commitment to the environment is aligned with our vision of creating a safer and greener future for everyone.
We invite you to explore our website and discover the range of invisible grill solutions we offer. Our portfolio showcases our expertise and the transformative impact our installations have on various spaces. Whether you are looking to secure your home, office, or any other property, our team of experts is ready to guide you through the selection process and provide professional advice based on your specific needs.
When you choose Supreme Invisible Grill, you can be confident that you are investing in a reliable and trusted solution for your security needs. Our focus on quality, innovation, and customer satisfaction sets us apart in the industry. We are passionate about delivering results that exceed your expectations and create spaces that are both safe and visually stunning.
Thank you for considering Supreme Invisible Grill. We look forward to the opportunity to serve you and transform your space into a secure and aesthetically pleasing environment. Contact us today to schedule a consultation and let us help you achieve the perfect balance between security and style.
1. Innovation and Excellence: Our vision is to be at the forefront of innovation in the invisible grill industry, continuously introducing new and advanced solutions that surpass customer expectations.
2. Seamless Integration: We aim to seamlessly integrate our invisible grill systems into various architectural styles, allowing customers to enjoy unobstructed views and enhanced aesthetics without compromising on security.
3. Customer Satisfaction: Our vision revolves around prioritizing customer satisfaction. We strive to exceed customer needs by providing personalized solutions, exceptional service, and ongoing support throughout their invisible grill journey.
4. Industry Leadership: We aspire to be recognized as industry leaders, setting the benchmark for quality, craftsmanship, and professionalism in the field of invisible grills.
5. Safe and Beautiful Spaces: Our ultimate vision is to create safe and beautiful spaces for our customers, where they can live, work, and play with peace of mind, knowing that their security needs are met without compromising on the elegance of their surroundings.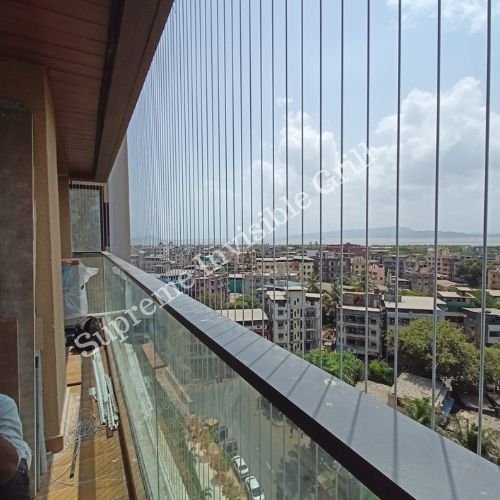 Safety: We prioritize the safety of our customers above all else, ensuring that our invisible grills are designed and installed to provide maximum security and protection.

Quality: We are committed to delivering superior quality in every aspect of our service, from the materials we use to the craftsmanship we exhibit, ensuring long-lasting and reliable invisible grill solutions.

Customer Satisfaction: We place our customers at the center of everything we do, striving to exceed their expectations and provide exceptional service that leaves them satisfied and delighted.

Expertise: With our team of skilled professionals, we bring extensive knowledge and expertise to every project, ensuring that our customers receive expert advice and flawless execution.

Transparency: We maintain open and transparent communication with our customers, providing them with all the necessary information, pricing details, and progress updates throughout the entire process.
1. Enhancing Safety: Our mission is to provide customers with invisible grill solutions that prioritize their safety and security, offering peace of mind in their living and working spaces.
2. Elevating Aesthetics: We strive to blend seamless security with architectural beauty, offering invisible grills that enhance the visual appeal of any space while maintaining unobstructed views.
3. Customized Solutions: We are dedicated to understanding our customers' unique needs and delivering tailored solutions that perfectly fit their spaces, ensuring complete satisfaction.
4. Quality Craftsmanship: Our mission is to deliver impeccable quality through skilled craftsmanship, utilizing premium materials and attention to detail to create durable and reliable invisible grill systems.
5. Exceptional Service: We are committed to providing exceptional customer service, ensuring a smooth and hassle-free experience from consultation to installation and beyond.
6. Building Trust: We strive to build trust with our customers through transparent communication, reliable service, and a commitment to delivering on our promises.